Product Overview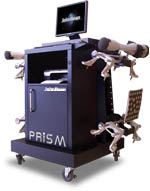 EEWA557AL
The award-winning Prism is the world's first alignment system to combine imaging alignment technology in a portable package. It provides dramatic productivity improvements and offers more features than conventional aligners, at a lower price. The Prism leverages a wireless communication system with Bluetooth™ technology, cordless pods powered by Lithium Ion batteries, and components made from lightweight magnesium. The Prism combines advanced technology and affordability to take your alignment business to the next level.
The Prism will enable you to:
Do alignments quickly from virtually anywhere in the shop
Reduce the time required to perform corrective actions
Rely on advanced, lightweight components that are designed with the technician in mind
Make More Money!

Click on one of the section titles to learn more about the Prism Wheel Alignment System.
Features
---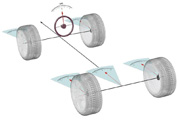 EZ-Link™ software alerts the technician of OEM service and maintenance procedures related to Electronic Stability Control and Electric Power Steering systems.
OEM instructions guide the technician through the process of resetting the steering angle sensors along with other sensors as required. EZ-Link™ includes manual as well as electronic resets.

---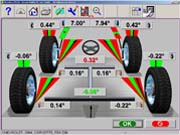 Make technicians experts with easy-to-use graphics and job aids
Use available step-by-step instructions as a guide for completing even the most complex tasks consistently - the first time
---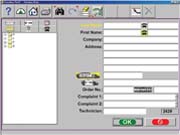 Handle a wide variety of vehicles that come in your shop
Rely on a comprehensive manufacturer database spanning 25+ years
---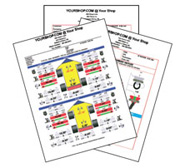 Enhance customer satisfaction with personalized reports showing readings before and after service
---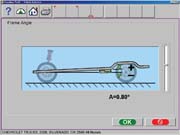 Measure ride height and obtain proper alignment specs for those vehicles requiring it
---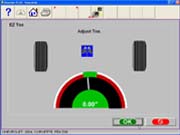 Turn the front wheels and access difficult adjustment points without losing contact with the aligner console
Significantly reduce front toe adjustment times
---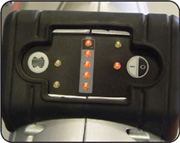 Save time by viewing results of runout directly on the pod without stopping or repositioning to look at the monitor
---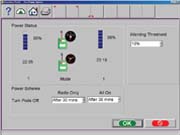 Lithium Ion batteries can go up to a full week without recharging
Battery display on the pod shows the percentage of power remaining
Alerts notify the technician when the pod's battery reaches a certain discharge level
Electronic components are designed with ultra-low power requirements to maximize battery performance
---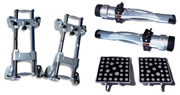 Advanced design requires pods at rear wheels only, reducing overall component weight by 50%
Passive front wheel targets improve durability - no electronics to damage
Magnesium pods, targets and clamps are durable, impact resistant and lightweight
---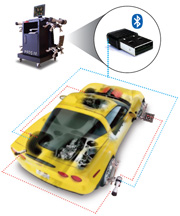 Perform alignments within 330 feet (100 meters) of the console - even in areas that have high electrical interference - for true portability
Pods communicate with each other and the console using Bluetooth™ wireless technology
---
SAI and Thrust Angle
Included Angle
Toe Out On Turns/Max Turn
Front and Rear Toe
Front/Rear/All/Zoom Readings
FrameCheck™ Light Truck Frame Angle
Initial/Final Color Printouts
Individual Camber/Caster/Toe
Front Caster (-28° to +28°)
Front & Rear Camber (-15° to +15°)
3D Animation
Video Help
A-Arm Adjustments
Adjust Camber Only
Elevated Adjustments
Rear Shim Programs
Multiple Lift Support (3)
Vehicle Specs: 25+ years
EZ-Link™*
EZ-Toe™*
Equalize Toe Warning

Adjust Front Before Rear Warning
Ride Height*
Multiple Clamp Support
2-Wheel Alignment
32 Languages
Multiple Print Formats
Custom Vehicle Specifications
Regional Specifications
Integrated Help System (PDF)
Tools, Parts, and Adjustment Instructions
Advanced Customer Database with Backup/Restore
Multiple Units of Measure
Caster and SAI on Turntables
SAI Elevated
Live Caster, Camber and Toe - Turntables
Live Caster, Camber and Toe - Elevated
NorthStar Shim Program
Light Truck Bushing
Camber & Toe - Turntables (Frozen Caster)
Camber & Toe - Elevated (Frozen Caster)
---
Back To Features List | Back To Top | *Patented and/or Patent-Pending Features
Specifications
| | |
| --- | --- |
| Wheel Size | 13" - 24" |
| Tire Diameter | Up to 37" |
| Track Width | 48" - 96" |
| Wheelbase | 70" - 180" |
| Power Requirements | 120/230V, 1Ph, 60HZ |
Accessories
Standard Accessories
Recommended Accessories
Optional Accessories