Product Overview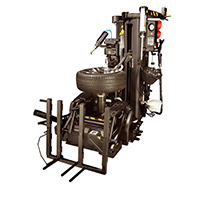 EEWH536C
The ATC 1000 is the industry's first truly automatic tire changer. No other tire changer automatically measures tire diameter, uses imaging technology to precisely profile the wheel, automatically positions the tire for hydraulically-driven dual bead breaking, and uses precise motor controls to remove the tire from the wheel.
Standard features include an integrated wheel lift to handle heavy lifting, a hydraulically-activated center clamp that safely clamps the wheel without the risk of damage associated with table-top machines. Smart Vision™ laser-guided tool positioning and demounting completely eliminate tool-to-wheel contact for damage-free and worry-free tire and wheel handling. The ATC 1000 tire changer is the first tire industry application of laser imaging brought to you by the company that invented imaging technology for use with shop equipment. Relax...It's Automatic!

Click on one of the section titles to learn more about the ATC 1000 Fully-Automatic Tire Changer.
Features
---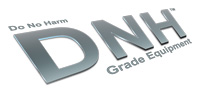 Handling today's alloy and composite wheels are a critical part of the overall customer satisfaction experience. John Bean has designed the ATC 1000 tire changer to "Do No Harm" when handling expensive wheels and tires.
---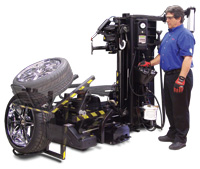 Essential for today's heavy tires and wheels
Front-mounted wheel lift with single switch control, effortlessly positions the tire on the turntable
Automatically measures the outside diameter of the tire, allowing for accurate positioning on the pedestal when lifted!
Ensures proper handling, reducing chances of damaging expensive wheels
A standard feature - unlike competitor's models
---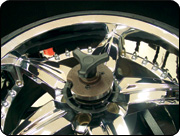 Quick and effortless clamping of the wheel and tire assembly
Eliminates wheel diameter as a factor in being able to handle all custom and OEM wheels
Enhances operator safety and eliminates wheel damage associated with outer/inner wheel clamping
Clamps at the center, the wheel's strongest point
---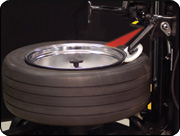 Assures precise, worry-free tire removal and installation
Translates laser-imaging profiles into precise positions for the robotic bead removal tools
From the Inventors of Imaging Technology for Shop Equipment
---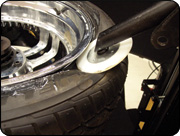 Computer-programmed sequence that assures precise placement of the upper and lower polymer disc rollers
Smoothly and effortlessly rolls the bead off the wheel, unlike shovel-styled bead breakers
Assures safe separation of tire beads from the wheel's bead seat area without fear of damaging tires, wheels, or inflation sensors
Works on reverse drop-center wheels without additional effort
---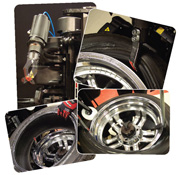 Tools are automatically positioned safely and precisely via patented imaging technology - eliminating damage caused by tool-to-wheel contact
Designed to perfectly match the shape of the tire bead and wheel bead seat area
Assures precise and consistent removal of the tire with no contact to the wheel
Mounting tires is just as safe and easy as removing them!
Bead Push™ - Integrated bead pusher aids in mounting the upper bead on any tire with ease. Unique two-position design controls positioning the bead into the drop center. No need to involve another technician - it's like having another set of hands!
---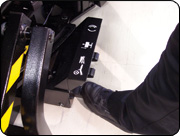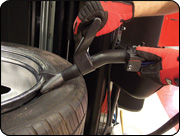 Dual controls and double-step blast controls assure safe inflation on a wide range of tires and wheels
Topside bead blast is the best way to inflate today's stiff sidewall and EMT tires
---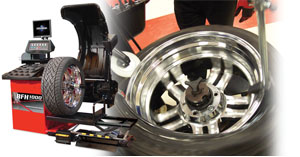 To make the most of your Tire Changer investment, pair the ATC 1000 with John Bean's BFH 1000 Total Ride Performance Wheel Balancer System. The BFH 1000 uses touchless, laser imaging technology to determine the optimal match for each tire and wheel assembly. The ATC 1000 then quickly indexes the tire and wheel. Eliminate customer comebacks by reducing vibration due to non-uniformity issues!
---
Back To Features List | Back To Top | *Patented and/or Patent-Pending Features
Specifications
| | |
| --- | --- |
| Wheel Diameter Range | 12" - 30" |
| Maximum Tire Diameter | 47" |
| Maximum Wheel Width | 17" |
| Maximum Wheel Weight | 154 lbs |
| Maximum Sidewall Height | 8.4" |
| Air Requirements | 100 to 170 PSI |
| Dimensions (DxWxH) | 51"x73"x89" |
| Shipping Weight | 2,050 lbs |
| Power Requirements | 230V, 1Ph, 60HZ |