Increase Productivity, Efficiency with New Snap-on Equipment John Bean X-CEL Wheel Aligner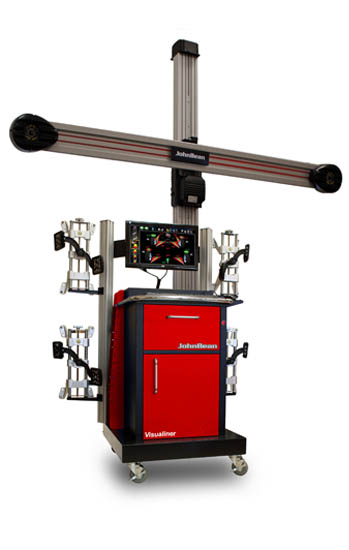 CONWAY, AR - January 24, 2012 -- Snap-on Equipment's new John Bean X-CEL Wheel Aligner will help make service technicians into alignment experts. This versatile, one-of-a-kind aligner is easy to use, reduces correction times and increases shop efficiency.
"Without question, our new John Bean X-CEL Wheel aligner increases productivity which, in turn, helps generate more alignment business," said Jon LaRue, director of product management for Snap-on Equipment. "With its state-of-the-art technology and innovative design, the X-CEL Wheel Aligner gives results quickly and, more importantly, correctly. It can handle a wide range of vehicles and helps catch errors before they become costly."
With a unique V3D2 X-CEL imaging alignment system, the John Bean X-Cel Wheel Aligner leverages patented imaging technology to provide accurate, real-time measurements that reduce setup and measurement times and generate serious productivity benefits for service technicians. This proven technology combines with easy-to-use software to give professional service technicians accurate readings in a matter of minutes.
Ultra high resolution (UHR) cameras work as a coupled system to produce real-time alignment readings and diagnostic data. In less than 90 seconds, the X-CEL Wheel Aligner uses a new design in wheel targets and advanced software to provide 3D modeling of the wheel position, thus eliminating missed collision damage or mismatched tires and wheels.
The versatile wheel clamps with industry-proven grips provide a solid, worry-free attachment, and the patented rolling run-out compensation procedure can accommodate a wide range of vehicles without hardware changes. No additional adapters are needed to measure vehicles with custom wheels and tires.
Customers can find out more about Snap-on Equipment's new John Bean X-CEL Wheel Aligner by calling 501-450-1500 or visiting www.snaponequipment.com.

Snap-on Equipment is the world's leading automotive service equipment company and is a division of Snap-on Inc., a leading global innovator, manufacturer and marketer of tools, diagnostic and equipment solutions for professional tool users. Founded in 1920, Snap-on Inc. is a $2.8 billion S&P 500 Company headquartered in Kenosha, Wisconsin.

Media Contact: Michael Alusick
309 Exchange Avenue
Conway, AR 72032
501-450-1580
michael.p.alusick@snapon.com