New John Bean Prism EL Alignment System with Imaging Technology Offers High Mobility with Less Complexity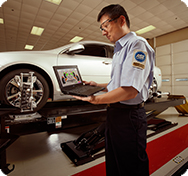 May, 2012 -- The new John Bean Prism EL Alignment System is ideal for shops that want maximum flexibility and great value.
"Shops that perform several alignments per week don't want to compromise on quality or accuracy, but may not be able to justify an investment in other alignment systems," said David Cox, vice president of sales. "The new John Bean Prism EL with imaging technology is perfect for these shops because it delivers value. It is user-friendly, accurate and mobile - a real 'difference maker' when it comes to the alignment business."
The John Bean Prism EL Alignment System uses the wireless sensor pods to provide the alignment readings, allowing more mobility for the user. Using a mobile computer, it can be used under the car, which allows viewing of the alignment measurements while making the proper adjustments. The Prism EL features easy-to-see measurements and software help screens as well as lithium-ion rechargeable batteries for long-lasting use.
Customers can find out more about the John Bean Prism EL Alignment System and other wheel service products by calling 877-482-4866.
Snap-on Equipment, a division of Snap-on Incorporated, is the world's leading source of automotive undercar service equipment, marketed under brand names such as John Bean, Hofmann, Blackhawk and Cartec. Snap-on is a leading global innovator, manufacturer and marketer of tools, diagnostic and equipment solutions for professional users. Products are sold through its franchised dealer van, company-direct sales and distributor channels, as well as the Internet. Founded in 1920, Snap-on Incorporated is a $2.9 billion, S&P 500 company headquartered in Kenosha, Wisconsin, and employs approximately 11,500 people worldwide.


Media Contact: Louise Burnett
309 Exchange Avenue
Conway, AR 72032
501-450-1502
louise.burnett@snapon.com