New Integrity Test Drive Completes Vehicle Inspection in Minutes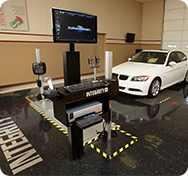 May, 2012 -- The new Integrity Test Drive by John Bean performs a complete vehicle inspection in a matter of minutes, generating comprehensive, easy-to-understand reports of needed service.
"The new Integrity Test Drive combines several, productivity-enhancing systems that work together to provide customers with a complete 'health' snapshot of their vehicle in less than 10 minutes," said David Cox, vice president of sales. "The vehicle condition report documents the inspection and helps the service advisor communicate the needed services to the customer, easing the sales process."
The Integrity Test Drive quickly conducts multiple inspections of the vehicle including alignment, battery, brake efficiency, brake pad thickness, diagnostic codes, and generates a color-coded report that highlights the results of each inspection.
"A shop will experience the advantages of our new Integrity Test Drive on day one," continued Cox. &8220;Its straightforward operation allows service advisors or service technicians to conduct complete inspections quickly and efficiently, identifying needed service and repair opportunities. The Test Drive is a 'must have' for shops that want to fully optimize their repair capacity and vehicle throughput."
Customers can find out more about the Integrity Test Drive by John Bean and other wheel service products by calling 877-482-4866.
Snap-on Equipment, a division of Snap-on Incorporated, is the world's leading source of automotive undercar service equipment, marketed under brand names such as John Bean, Hofmann, Blackhawk and Cartec. Snap-on is a leading global innovator, manufacturer and marketer of tools, diagnostic and equipment solutions for professional users. Products are sold through its franchised dealer van, company-direct sales and distributor channels, as well as the Internet. Founded in 1920, Snap-on Incorporated is a $2.9 billion, S&P 500 company headquartered in Kenosha, Wisconsin, and employs approximately 11,500 people worldwide.


Media Contact: Louise Burnett
309 Exchange Avenue
Conway, AR 72032
501-450-1502
louise.burnett@snapon.com