New John Bean Alignment Audit System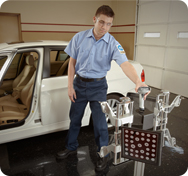 May, 2012 -- The inventors of imaging technology for shop equipment have done it again. The new John Bean Alignment Audit System significantly improves shop efficiency as any service technician can perform a fast and easy wheel alignment audit with live readings in approximately 60 seconds.
"With our new John Bean Alignment Audit System, each wheel alignment audit can be completed in under a minute and service technicians will get a complete color-coded report to share with their customers," said David Cox, vice president of sales. "The report empowers service advisors, helping them sell more required services that might normally go unnoticed and improve their customer relationships, as an inspection with documentation can ease the sales process."
This John Bean system uses live, computerized 3D modeling and high-resolution cameras, coupled with an extensive database of vehicle information to provide fast and accurate alignment audits under an array of working conditions. Unlike others, the system does not require leveling and is self calibrating.
"The John Bean Alignment Audit System also lets service technicians perform alignment audits outside of the alignment bay since it does not require a lift," continued Cox. "This leaves the alignment bay free to conduct revenue generating services, increasing productivity and profits."
Customers can find out more about the John Bean Alignment Audit System and other wheel service products by calling 877-482-4866.
Snap-on Equipment, a division of Snap-on Incorporated, is the world's leading source of automotive undercar service equipment, marketed under brand names such as John Bean, Hofmann, Blackhawk and Cartec. Snap-on is a leading global innovator, manufacturer and marketer of tools, diagnostic and equipment solutions for professional users. Products are sold through its franchised dealer van, company-direct sales and distributor channels, as well as the Internet. Founded in 1920, Snap-on Incorporated is a $2.9 billion, S&P 500 company headquartered in Kenosha, Wisconsin, and employs approximately 11,500 people worldwide.


Media Contact: Louise Burnett
309 Exchange Avenue
Conway, AR 72032
501-450-1502
louise.burnett@snapon.com